It feels like forever since I last linked up with
Katie
for: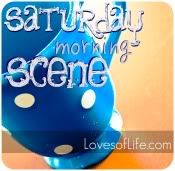 I went to my TRX class this morning... it's less than a 10 minute walk from my house, and usually nobody is out and about that early (9am... c'mon people!?!! Is everyone in town hungover except me?)
But today, some strange things occurred.
First, my iPod didn't work! It turned on but was locked on the main screen. Ugh! Now I have to walk to class and
listen to nature?!
I DID keep my ear buds in... I didn't want to look like a weirdo carrying around my iPod and not using it...
and to deter anyone from trying to talk to me..
(p.s. I found myself singing "1, 2 buckle my shoe....")
(p.s.s. As soon as I got home, Jerk Face got it to work! Go figure!)
Secondly, I came across a guy and two girls talking outside... One of the girls was wearing a towel on her head... and I don't mean the kind of cultural towel used in some ethnicities... weird, right?
And finally this morning... I was nearly attacked.
Yes, folks. Attacked.
Not by some creepy guy
or girl
(I'm not sexist)...
Not by a human at all...
but by a
DEER!
(a doe, actually...I'm a certified Junior Ranger; I know my animals)
I drew a diagram for Jerk Face, so I will share it with you:
The arrow in front of the deer (you can tell it's a deer, because it's labeled...) is where the deer ran, thankfully she stopped charging me, but I was a little scared... I've seen how animals behave in towns... They're just not very proper.
So many things were running through my head, like:
I think I could take it, I've been doing TRX for a few months now...
I don't want to end up on an episode of 'When Animals Attack'
Should I just curl up into the fetal position and cry?
I wish I had an iPhone, this would be a great Saturday Morning Scene for my blog! (and I would have music!.. although, if I had my music, I don't know if I would notice mother nature racing towards me!)
So that was my morning scene! What was yours? Go
link up!
We're off to go garage sale-ing and a graduation party, but I'll leave you with this:
LB and her piggy bank
Just being cute