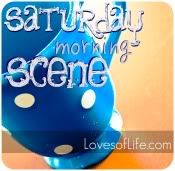 Ugh! I never cleaned up LB's toys last night...
So THIS is my Saturday morning scene:
*on another note*
I was also catching up with The Housewives....
Oh ladies!
You embarrass me so!
All of this (...can you actually call it singing?) singing...


The whole Melissa (NJ) 'wench' mess?!
LAUGHABLE!
(and clearly staged!)
"shh - shh! Listen to Mommy sing!"
....
The Classy Countess (NY) singing with Natalie Cole?
YIKES!
Just shoot me now!
I can't believe Natalie Cole let her sing with her!!!!
...
Speaking of NY...
Simon (nice pants?) too?!
*and why is he so mean this season?*

My goodness!

What does your Saturday look like?