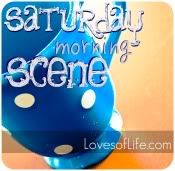 Happy Saturday everyone!!!
This Saturday morning, I expected to wake up to a bunch of young men painting my house...
No, I am not the next Gabriel Solise (FYI: she's a fictional character who had an affair with her teenage lawn boy.) This is REAL Housewife of H2oVille, not DESPERATE Housewife of H2oVille... Pay attention, Pa-Lease!
Anyways, why did I expect to see a bunch of boys painting my house? Because we hired Student Painters to paint our house.. and they started on Friday...
They apparently don't work on weekends.. because I left for my TRX class, and they weren't there. I came back from my TRX class, and they weren't there.. We left to go do some shopping, came back, and they weren't there.
Big deal, KSK! ...So you say!
Let me show you what our house looks like... and will look like until Tuesday, at least, I'm sure!
Yes... That's a partially painted house (and yes, those are still overgrown bushes...)...
I told you that we were the most embarrassing house on the block... *sigh*
The neighbors are having people over, and I'm sure, we're the spectacle on the street!
The boys also got paint all over our siding...
we'll see.... it will turn out okay (cross your fingers please!)
This is a rough sketch of what we think it will look like:
hopefully they won't get paint on the truck....