I am linking up for the first time ever with Shell for: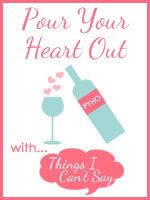 Just a forewarning: This is going to get serious.
As you all probably know... and if you don't, I'll tell you again:
I had my wisdom teeth removed on Friday.


To gain more of your sympathy, I will tell you that I had all 4 of them removed.
Two were labelled as:
Full Bone - Impaction
and two were labelled as:
Full Bone - Difficult
Which I'm pretty sure that means it's terrible - and I should've just kept them.


I'll give you time to say: "oh dear, that is awful!"
....Thank you. I feel better.
*smile*
I have been on pills.
All weekend.
And?
I feel like a shitty mother.
I know it's not my fault, but it still sucks.
I was held captive to the couch Friday, Saturday, and most of Sunday.
All that I could do was enjoy ~foggily~ watching Jerk Face playing with LB.
(and curse him as he ate chips.)
They would laugh...
and LB looked at me
My face hurt as I tried to smile at her.
I remember hearing Jerk Face tell LB that
"Shh! Mommy is sleeping"

She was so good.
Almost like she knew that I was feeling ill.
I know that LB is young and won't remember her "Ma"
being a druggie
not playing
not reading
not rocking her to sleep
not even smiling through a simple game of peek-a-boo
for a few days
but a part of me knows that even small things like this
can shape a child.
Is she going to be a little less happy because I'm not smiling back?
...she seems to be wanting Da-Da more...
~and~
I know that getting your wisdom teeth removed is
different...
but.


My eyes have been opened to see a new light.
I never thought about how it would be for a mother who is unable to play with her children felt.
I never knew the ache that forms in the heart.
It hit me like a ton of bricks.
Friday night, I was in such a state, that I couldn't even make it up the stairs to sing our
bedtime song
.
That killed me.
I said a prayer for all parents that are unable to be with their children right then and there.
Unlike so many other parents, I
will
get better
(hopefully soon)
and will be playing with LB
and reading to her
and getting annoyed by her.
And I can't wait.