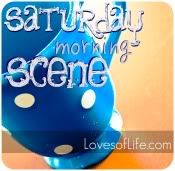 Man! I can't believe it's already Saturday!
Time for my
Saturday Morning Link up!
I caught LB playing her keyboard very seriously...
Maybe we should change her name to Beethoven!
*P.S. I say it 'BEETH oven' like in Bill & Ted!
..anything to bother Jerk Face! :)
all of my mispronounced words will be a future post ;)
Eep! I've been spotted!
What kind of face is this??!
There's a smile! :)
She's waving to all of you! :)
*side note, we had to put the laundry basket in front of the keyboard, because she has started to pull herself up on it, and when it goes forward... so does she..!
What's Jerk Face up to, you ask?
Some yard work :) YAY!
WAIT!!!
Are you digging up my flowers?!?
....
..
OY!
It looks like they can be saved... I hope!
Omigoodness! I better go supervise!
Hahaha!
What does Your Saturday look like?